The Fabrication Shop here at Tim's Custom Exhaust, is for the Custom Automobile Enthusiast that doesn't otherwise have aftermarket parts available to them. In other words we don't just do Exhaust! We build Cold Air Intakes, Inter-Cooler Piping, and many other custom mods. Do you have an exhaust kit that doesn't fit? Do you want to modify your existing kit? Or maybe you just don't have time to install it. We can help. We have installed thousands of kits, and we know how to make them fit properly. We have the knowledge, tools, and expertise to get you the results you want. Feel free to contact us about your needs.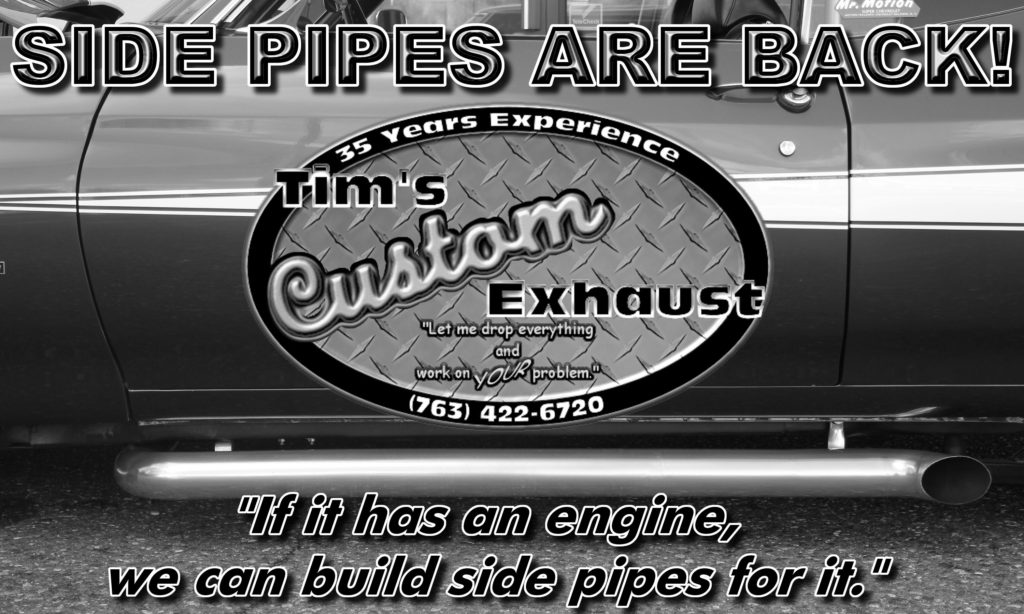 Side Pipes
Then it comes to Side Pipes, you either have a vehicle that they belong on, or you want that vintage style and or sound! If you are looking for quality side pipes that also out-perform every other side pipe on the market, then you've come to the right place! Here at Tim's Custom Exhaust, we will custom build you side pipes that LOOK GREAT, SOUND GREAT and BREATHE GREAT to Perform Great! We start with a 16 gauge custom built Steel-Pac Muffler. Each Side Pipe is assembled and welded by hand. Once the quality and craftsmanship have been double checked, your custom built Side Pipes will be ceramic coated to ensure the heat from the exhaust stays in the Pipe as well as giving you a durable finsh. You will not find another set of Side Pipes anywhere that have the quality, sound or performance that ours offer!
Consult one our friendly staff members for specific needs. Your satisfaction is our highest priority!
You won't find a better level of service anywhere in the metro area!
Our 5-star repair service includes:
Mandrel Bending of Stainless & Aluminized Tubing
Street Rod / Muscle Car Specialists
Fabrication On Forced Induction Installs
Excellent Source For Catalytic Converter On Any Vehicle
Custom Built Headers
Motorcycle Exhaust
Street Rod/ Classic/ Muscle/ Race car Maintenaince and Repair
You won't find a better level of service anywhere in the metro area! Call us at 763-422-6720 or email us today.